What Is MD Paper? Midori's Original High-quality Paper
MD paper is the paper used in Midori MD notebooks, one of the most popular Japanese notebooks. I will introduce its features, writing experience, and various Midori products made with MD paper.
What Is MD Paper?
Features of MD paper
MD paper is an original paper developed through many trials and errors from a stationery brand called Midori since the 1960s. It is characterized by its soft cream color and is a high-quality paper that can be used not only for writing but also for drawing.
When you're comfortable with the stationery you're using, you eventually get into a rhythm. The words leap onto the page and your thoughts become cohesive.

midori-japan.co.jp
In addition to the basic MD paper, there is also MD Paper Cotton, which contains 20% cotton pulp. With its extremely smooth surface, it can be used especially for drawing with pencils and pencils.
Paper Quality
I checked its quality with my Midori MD notebook. The surface is a little rough and comfortable to the touch, and the pages are easy to turn.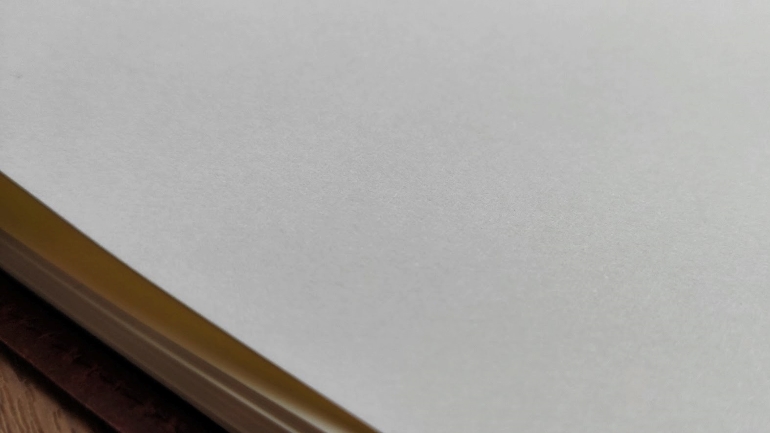 The texture of the paper is more noticeable when you see it through sunlight.
Writing test
The roughness of the surface makes a grating sound when you are writing, which makes it very pleasant to write on.
The pen to be used with the MD notebook should be smooth and a little bit slippery to write with. If you want to write slowly and carefully, any pen will work well. But if you tend to scribble a lot, you may find it difficult to write without a smooth pen because the pen tip becomes quite resistant on the paper.
I usually use an oil-based ballpoint pen, "PILOT Acro 1000". From the backside of the paper, there is no bleed-through at all. But the ghosting is slightly noticeable, which might be bothering some people.
Comparison with other brands
Comparing it to the cream-colored notebooks of other companies, I can see that the surface texture is totally different. Also, each page seems to be slightly thinner than others, and I think ghosting is because of that reason.
It may be hard to tell from the picture, but the surface of the MD notebook is rougher than the other notebooks.
MD Paper Product Lineups
Midori has many products related to MD paper. And their primary products are as follows.
Notebook
MD Notebook Journal
MD Notebook Cotton
Paper Pad
Sticky Memo Pad
Letter Pad / Envelope
MD Card
MD Notebook Diary
There are many more such as slim-sized MD Notebook Light and MD Calendar. To search more, please visit the official website's product page.
Conclusion
The unique texture of Midori's MD notebook has made it a favorite of many people even abroad. And its sophisticated functionality shows the reason for the popularity. So if you haven't tried it yet, please give it a try.